El Ferrocarril de Turismo de la Quinta Normal
The Quinta Normal Tourism Railroad
¡Como no recordar el trencito de la Quinta Normal que nos llevó en nuestra infancia.!
La Quinta Normal tuvo trenes para el esparcimiento de los santiaguinos, desde 1894, al principio con locomotoras a vapor, luego con motor a gasolina, y desde 1947 con locomotoras eléctricas. Así podíamos recorrer todo el parque de la Quinta Normal por 3 kilómetros de vía de trocha 500 mm., hasta su cierre en 1973.
¿Volverá algún día el trencito de la Quinta Normal?
The Quinta Normal had trains for the people enjoyment, since 1894, at first with steam locomotives, then with gasoline motor, and since 1947 with electric locomotives. Thus we could travel through all the park of the Quinta Normal for 3 kilometers 500 mm. gauge, until its closure in 1973.
El trencito de la Quinta Normal en 1964. Esta Locomotora, sin duda de origen nacional, parece haber sido inspirada en las Serpientes de Oro o en las locomotoras italianas 30 y 32, llegadas en aquella época. / The Quinta Normal Railroad in 1964. This Locomotive, seems to have been inspired in the 'Serpiente de Oro' or in the Italian locomotives 30 and 32, that arrived in these years.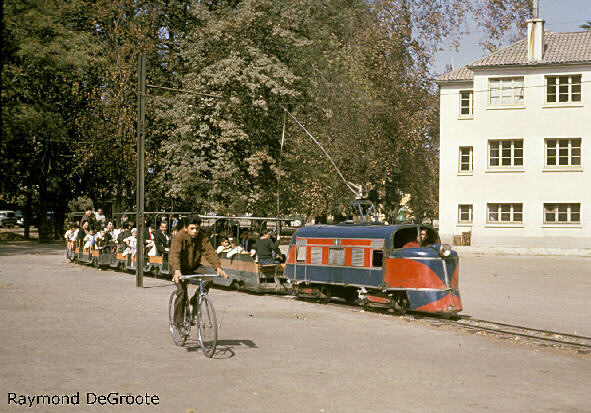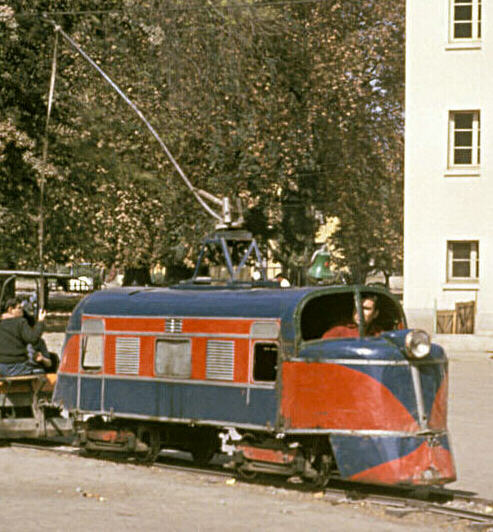 Detalle de la Locomotora / Detail of the Locomotive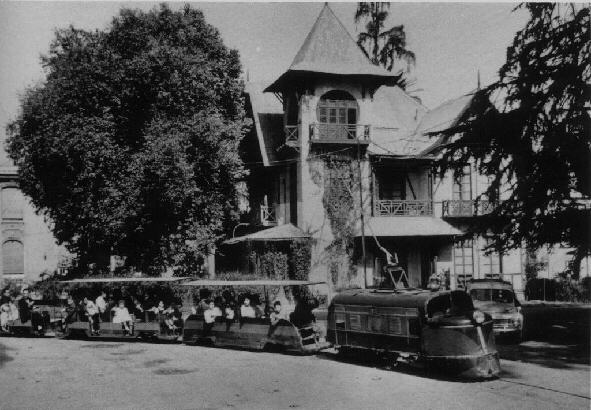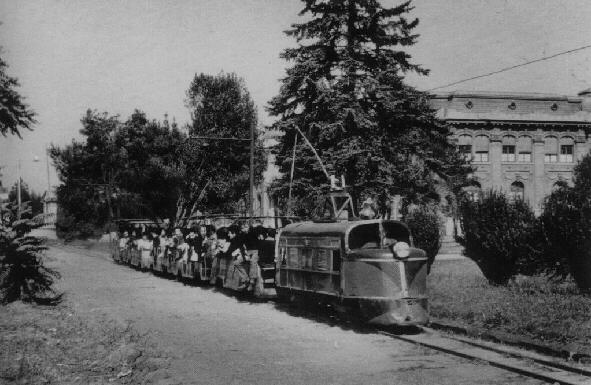 Todas la fotos tomadas por / Photos by Raymond DeGroote, pertenecen al Libro / from the Book 'The Tramways of Chile. 1858-1978' de Allen Morrison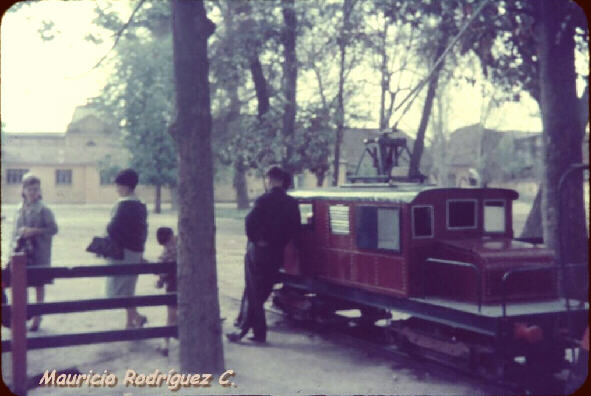 Otra Locomotora del trencito de la Quinta Normal, inspirada en el primer modelo de E-23 de las locomotoras del ferrocarril de Santiago a Valparaíso, lo que indica su fabricación nacional. Foto del álbum familiar de Mauricio Rodríguez alrededor de 1964. / Another Locomotive of the Quinta Normal Railroad, inspired in the first model of E-23 locomotive of Santiago Valparaíso railroad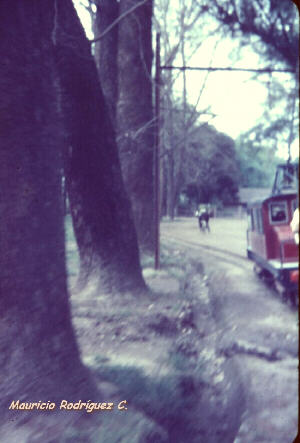 Otra vista desde el tren en movimiento / Another view from the train in movement
Para conocer otras locomotoras haz clik en el nombre del lugar
To know other locomotives clik the place name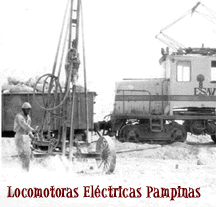 María Elena y Pedro de Valdivia