Ferrocarril del Llano de Maipo
Llano de Maipo Railroad
Act: 05/03/2009
Este ferrocarril de 22 kilómetros y trocha 1 mt. entre las ciudades de Santiago y Puente Alto, construido con tracción vapor en 1893, en 1925 fue electrificado por Siemens-Schuckert de Alemania. La energía eléctrica era entregada por la Cía, Chilena de Electricidad con 12.000 V. C.A. la que era transformada a 600 V. por la Subestación ubicada en Bellavista de La Florida.
Diez Coches de pasajeros fueron motorizados transformados en automotores, los que tiraban 1 o 2 coches (trailers) no motorizados. Además se adquirieron 4 locomotoras eléctricas para el transporte de carga.
This railway of 22 kilometers and 1 mt. gauge between of Santiago and Puente Alto, built with steam traction in 1893, in 1925 was electrified by Siemens-Schuckert of Germany. The electric energy was delivered for the Chilean Electricity Co, with 12.000 V. A.C. that was transformed to 600 V. by the Subestation located in Bellavista de la Florida. Ten passengers Coaches were motorized and transformed into Railcars, that threw 1 or 2 coaches (trailers) not motorized. At de same time 4 electric locomotives for freight transportation were acquired.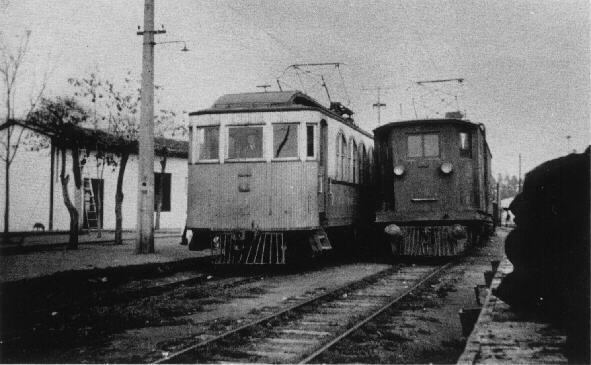 Encuentro de Automotor y tren de carga con Locomotora eléctrica en la ruta. Foto: H.E.C.Piercy, colección J.H.Price, del Libro 'The Tramways of Chile. 1858-1978' de Allen Morrison / Encounter of railcar and freight train with electric Locomotive in the route.

Estación Puente Alto. Se ve a izquierda el tren a vapor Puente Alto - El Volcán, trocha 600 mm., y a derecha, locomotora eléctrica y equipo del ferrocarril del Llano de Maipo. Foto: Jorge Cassis / Puente Alto Station. At left is the steam train Puente Alto - El Volcan, gauge 600 mm., and at right, the electric locomotive and coaches of the Llano de Maipo railroad.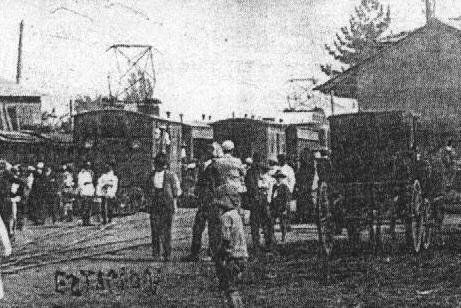 Estación Puente Alto (detalle). La Locomotora eléctrica y más atrás otro pantógrafo de un Automotor. Foto: Jorge Cassis / Puente Alto Station. (detail). The electric Locomotive and behind a Railcar pantograph.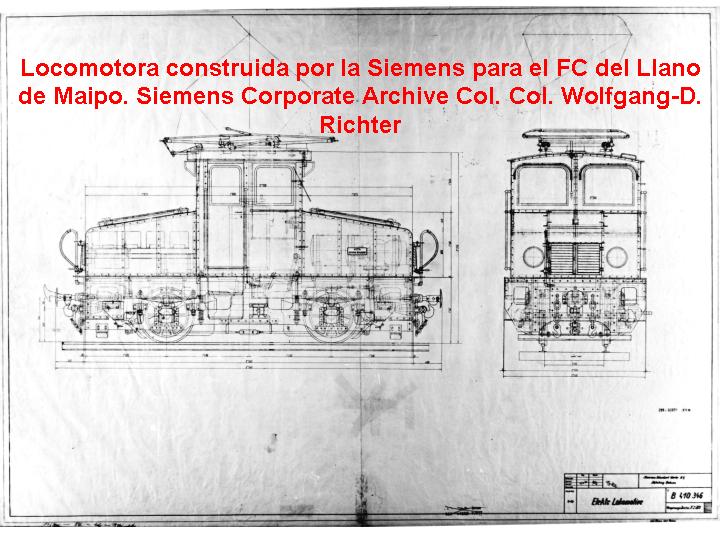 Locomotora Siemens para el FC del Llano de Maipo. Siemens Corporate Archive Col. Col. Wolfgang-D. Richter
Para conocer otras locomotoras haz clik en el nombre del lugar
To know other locomotives clik the place name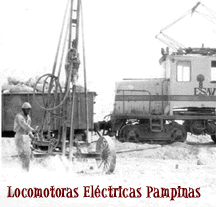 María Elena y Pedro de Valdivia