Las Locomotoras Eléctricas de Trocha Angosta en Chile.
Narrow Gauge Electric Locomotives in Chile
Act: 24/02/2010
Pronto en las mejores librerías del país
Conozca las locomotoras eléctricas de trocha angosta con todos sus detalles, anécdotas y personajes en el Libro 'Ferrocarriles Eléctricos de Chile. Trenes Privados Urbanos, Rurales e Industriales' de Harold Middleton Nagel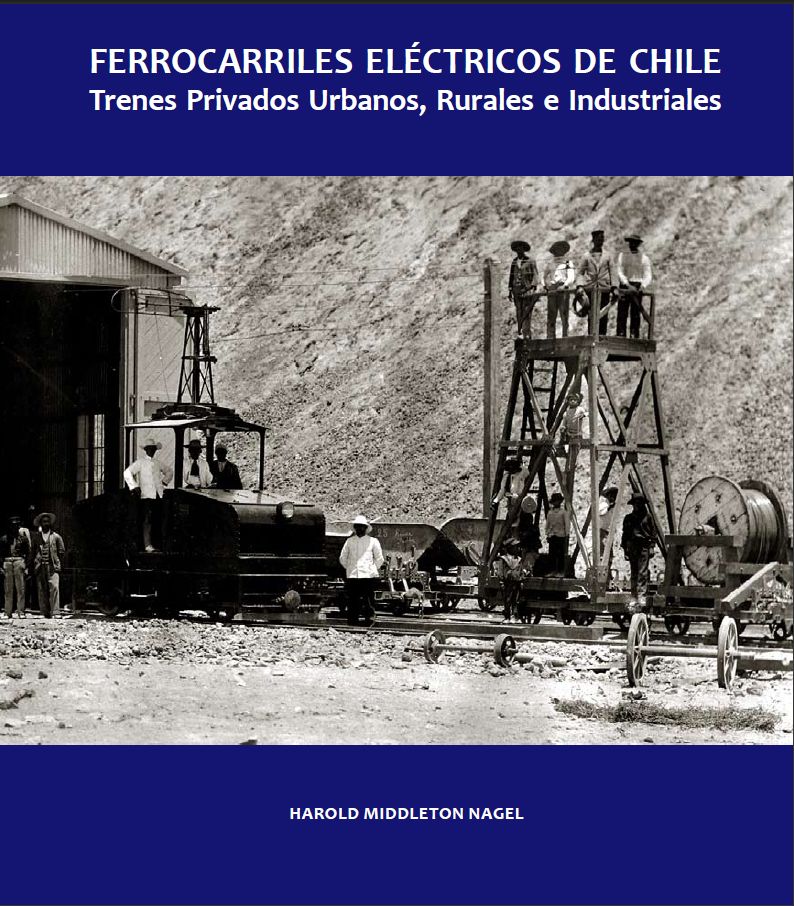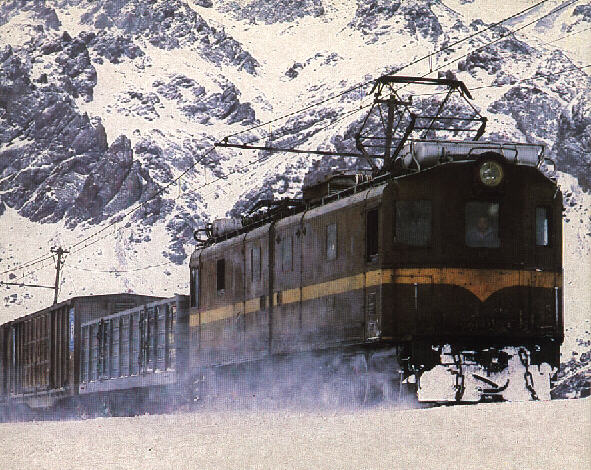 Ferrocarril Transandino. Tren de Carga con Loc. E-100. Agenda Cochrane S.A. 1985 Foto: Carmen Domínguez / Transandine Railroad. Freight train with Loc. E-100
Esta Página Web está dedicada a todas las locomotoras eléctricas de Chile con excepción de las locomotoras de trocha ancha de la red Central y Sur. Estas Locomotoras son de trocha 1,435 o menores, salvo la Locomotora del Ferrocarril de la Compañía Molinera El Globo de Collipulli, y las del proyecto de Cartagena de trocha 1,676. Estas Locomotoras las encontramos a lo largo de todo Chile. La flota más numerosa es la del Ferrocarril de Tocopilla al Toco, y se encuentran entre ellas las bellísimas locomotoras suizas articuladas del Ferrocarril Transandino
This Web Page is dedicated to electric locomotives of Chile with exception of the wide gauge locomotives of the South and Central network. These Locomotives are 1,435 or smaller gauge, save the Locomotive of the Molinera El Globo Co. Railroad of Collipulli, and Cartagena project 1,676. gauge. We find these Locomotives in Chile all along. The most numerous fleet is from the Tocopilla Toco Railroad, and are found among them the beautiful Swiss articulated locomotives of the Transandine Railroad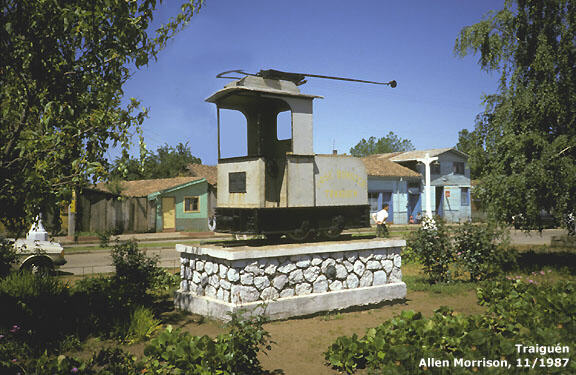 Traiguén. La Locomotora eléctrica más antigua existente en Chile. 11/1987. Foto: Allen Morrison / Traiguén. The oldest existing electric Locomotive in Chile
Agradecemos a todas las personas que colaboraron con nosotros en la realización de este proyecto, en especial al Sr. Allen Morrison de Nueva York, autor del libro "The Tramways of Chile 1858-1978".
Thank to all the persons that collaborated with us in the execution of this project, especially to Mr. Allen Morrison of New York, author of the book "The Tramways of Chile 1858-1978".
De antemano damos las gracias por cualquier aporte en el futuro, para lo cual rogamos comunicarse con nosotros al e-mail
Todos las colaboraciones serán debidamente acreditadas
We thank any contribution, e-mail us at
Para ir a las locomotoras haz clik en el nombre del lugar
To go to locomotives clik on the place name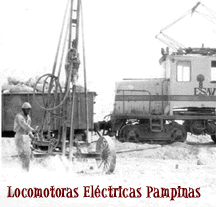 María Elena y Pedro de Valdivia
Para conocer las primeras 62 locomotoras de origen norteamericano, series E-20, E-21, E-23, E-24, E-25, E-28 y E-29, del Ferrocarril de Santiago a Valparaíso visite la página
Las Locomotoras Eléctricas del Ferrocarril de Santiago a Valparaíso
See the first 62 American Locomotives, series E-20, E-21, E-23, E-24, E-25, E-28 and E-29, Santiago to Valparaíso Railroad. Visit the page Electric Locomotives of the Santiago Valparaíso Railroad

Para conocer las 80 locomotoras eléctricas, series E-30, E-32 y E-17, de origen italiano, que llegaron a reemplazar a las primeras locomotoras eléctricas del ferrocarril de Santiago a Valparaíso, que empezaban a ser retiradas, y a prestar servicio en la Red Sur, electrificada a principios de los años 60, visite la página
Locomotoras Italianas en Chile
See the 80 Italian electric locomotives, series E-30, E-32 and E-17, that replaced the first electric locomotives of the Santiago Valparaíso railroad, and works too in the South Network, electrified at the beginning of the 60's, visit the page Italian Locomotives in Chile
En el año 2003 llegó al país una Tercera Generación de locomotoras eléctricas, una partida modesta de 4 locomotoras, esta vez de origen español. Conozcalas en el sitio de Mauricio Rodríguez:
Trenes Chilenos Sección Locomotoras Eléctricas
In the year 2003 arrived a Third Generation of 4 electric Spanish locomotives. Know them in the page of Mauricio Rodríguez Chilena Trains in Locomotoras Eléctricas Section
Automotores Eléctricos, alemanes, italianos, japoneses, argentinos y españoles, que han sido y son fundamentales en el transporte de corta y mediana distancia. Conózcalos en la página
Los Automotores Eléctricos Chilenos
German, Italian, Japanese, Argentine, and Spanish, Electric Railcars. Know them in the page
La Señalización Ferroviaria en Chile
Chilean Railway Signal Systems
Sitio web producido por Raúl Moroni y Mauricio Rodríguez
Web Page produced by Raúl Moroni and Mauricio Rodríguez